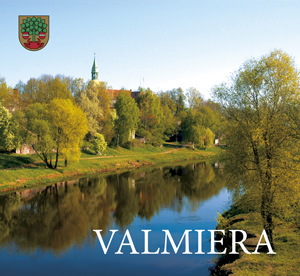 Valmiera thinks and creates!
Valmiera is the eighth largest city of Latvia. The number of inhabitants in March, 2013, is 26 543.
Valmiera is the major city of the northern part of Latvia and is located by the riversides of the longest river of Latvia – Gauja, in the distance of 110 kilometers from Riga – the capital city of Latvia, and in the distance of 50 kilometers to the south from the border of Estonia.
Valmiera's as urban's development beginning is considered at the year 1283 – when the building of the St. Simon's church was started and the castle of Valmiera was well-founded.
In nowadays Valmiera keeps in themselves the historic pearls and gentle touch of nature and in accordance with modern and industrial environment makes lovely sight and favorable preconditions for living in the city.
Valmiera is the birthplace of Janis Dalins, Latvian athlete – race walker, the silver medalist of Olympic Games in Los Angeles (1932). In Janis Dalins name is called the street in Valmiera and Valmiera's stadium. Valmiera is the birthplace as well of Maris Strombergs, the Olympic champion in BMX in Beijing (2008) and London (2012) – the first ever Olympic champion in the BMX cycling in the history of Olympic Games.
Vidzeme's Olympic Centre is one of the most outstanding sports buildings in Valmiera and Latvia. In year of 2010 in Vidzeme's Olympic Centre was organized the final round of the International Floorball Federation's clubs' tournament "EuroFloorball Cup", as well as in year of 2013 – The Qualification Tournament of Women's World Floorball Championship.
Getting to Valmiera
By airplane:
The nearest airport to Valmiera is Riga International Airport – the biggest airport in the Baltic region, located in 13 kilometers to the southwest from Riga.
Phone: + 371 29 311 187
By car:
The distance in between of Riga and Valmiera is 110 kilometers (motorways A2; A3).
By bus:
Approximately 20 bus trips by day – directly from Riga to Valmiera's bus terminal. The journey time is 2 hours and 20 minutes.
Additional info: www.valmiera.lv and www.voc.lv